The third day after the Winnowing, High Priest Henlith called the four remaining candidates together in front of the arena, where a tall, gaunt man with gray hair and gray eyes waited. He wore a simple harness that left most of his chest bare, and long, tight-fitting pants in blue and green. He had a long, jagged scar on his upper arm, a rarity in a world where bodies were easily sculpted to their owners' preferences.

"This is—" Henlith said.

"Priest Ortin!" Marel said. "Your Hunt was legendary. Such amazing control!"

The shadow of a smile flickered across Ortin's face. He bowed slightly. "It's former priest Ortin," he said. "And I thank you, though I am not here in an official capacity."

"Ortin has returned to teach tracking, escape, and evasion," Henlith said. "From now until the Selection, he will be available to teach you to track people while avoiding being tracked yourself. I would advise you to take advantage of this opportunity."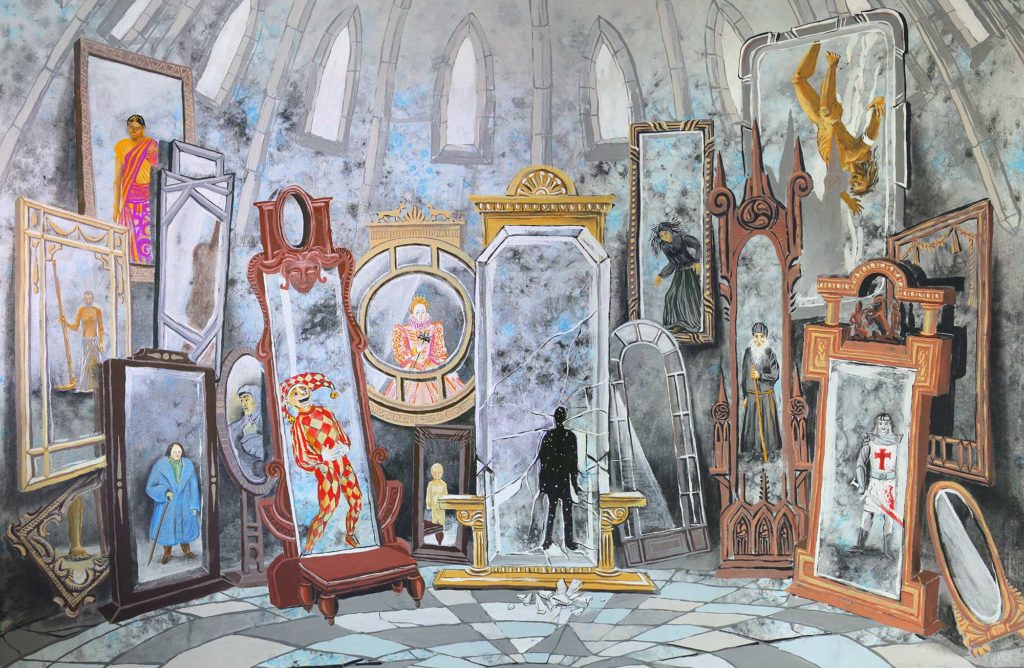 Ortin is a minor character who appears briefly in Divine Burdens, the second Passionate Pantheon novel. He trains a small group of elite worshippers of the AI god called the Hunt for the ritual of sacrifice, in which the winner of the competition to become Sacrifice will spend three days running through a forest shaped and controlled by the AI, pursued by Hunters.
Ortin has a scar. The story we tell is not his story, so the reader never learns why. We, the authors, know—in fact we know most of the highlights of his background in far more detail than anyone might suspect.
This is the case with most of the minor characters throughout the Passionate Pantheon novels. Every character, however slight, has a story, goals, motivations, a personality, a whole rich history—which is one of the reasons the characters feel so dynamic and alive. There's a sense, when you read one of the novels, that any of the characters, even if they appear only briefly, has a story to tell, and could be a protagonist in a book of their own…because they are. They're the protagonists of their own books, the ones you won't get to read. The ones that exist only in L-Space (yes, we're both Terry Pratchett fans!). They don't live only to appear on screen, they remain alive (and lively!) even when the reader isn't 'watching' them.
We both feel that an important part of writing a rich story is knowing the characters we're writing. They sometimes feel so real they're writing their own stories, and we're merely the conduit, not the author, of their experiences. In some cases, they know themselves far better than we can—and they do not hesitate to fight back if we try to make them act in a way that wouldn't fit their personality. And they fight hard. We authors rarely (or, come to think of it, never) win that battle. Janaíe and Donvin in the first novel, Ortin and Sirchia in the second novel, Meesha and Sandian in the third novel, Arjeniza and Jakalva in the fourth novel…minor characters all, and yet we could easily write novels just about them. (There will never be any shortage of stories to tell in this world; it's a rich and expansive place to visit.)
In Divine Burdens, a character named Mirim doesn't end up having any real relationship with any of the protagonists. She appears early in the story during a scene in which several characters are being tested for their suitability to offer themselves as Sacrifice, and she turns up again near the end of that story, and that's it for her on-screen presence. She doesn't even end up talking much with our main character, Erianna. But she looms large in the subtext of the book; she's referenced multiple times by various characters, we know a lot about her, and she has quite a strong personality. (She's pestering us to write her story, and she's quite insistent about it. If we turn up missing with a ransom note demanding a story and signed by 'Mirim', you'll know she's escaped the confines of our book and gone a-hunting!)
We also know the story of Tatian, an antagonist of the main character Lija (and her fiercest competition) in Divine Burdens. She's the person who comes closest to challenging Lija, and the two spend a significant amount of time going directly head-to-head. Tatian has a strong personality, she's intensely driven and competitive…but she also isn't bugging us to write her story, because she's an intensely private person. She knows her own story, we as authors are allowed to see (some of) her story, and she definitely, decisively, does not want anyone else to know her story. What could we do but acquiesce?
The characters in the Passionate Pantheon, even when they're a minor part of the plot, have richly realized histories beyond their role in advancing the protagonists from Point A to Point B. Lanissae, a minor character who appears in the fourth novel, is a great example. She's a scientist (specifically, a botanist) who is fascinated by the drones and loves exploring the Wastelands outside the City…and none of that is relevant to the role she plays in the plot. Even the main character of that part of the novel, Royat, only learns this about her as a casual aside when he goes for a walk with her, and it totally changes his view of her because her actions up to that point have been all about another part of her personality entirely. But it's there, and it's an important part of her. She would not, could not, be who she is without it, even when it's not a part of her actions up to that moment. She's a fully developed character, not a mechanism to move the plot.
In a sense, writing the Passionate Pantheon novels can feel a bit voyeuristic, less like we're creating a world and more like we're watching what's going on in a world that already exists. Franklin isn't an exhibitionist, but there's a scene where Mirim explains to another character—and to the authors!—what's hot about exhibitionism. (At least, for her experience of exhibitionism, since there are many many possible reasons, not all of which apply to every exhibitionist.) That bit felt channeled rather than created—as though the character were telling us, rather than us creating her words.
The difficult thing isn't coming up with new stories, or new plots, or new characters. It's pruning the focus we give to the many characters that are fighting for our attention. We want to give them all fair time and attention…but we have limited space. Even in a 120,000 word book, which is fairly long for a novel, we regularly run out of space.
Many of the characters we mention above can be found in Divine Burdens, of course, but there you're getting the merest, tiniest tip of the iceberg of their histories. If you're anything like us, you're probably interested in seeing more detail. So how to do that?
With the crowdfunding for Divine Burdens, we thought we'd try something new. With The Brazen Altar we created a reward tier that would let a backer choose a minor character and have us write a story about them, but we heard that the tier was more expensive than some of our backers could manage. So with Divine Burdens, we're doing a referral contest instead!
When you sign in to Indiegogo, you get a unique URL that belongs to you. Use it to promote the crowdfunding, and whoever gets us the most backing can choose a character from Divine Burdens and we'll write a short story (at least 3,000 words) about that character.
We're already moving on to the fifth novel, but the characters from the earlier novels are getting more and more insistent. Their requests to be heard are becoming…well, demands rather than requests.
So just for the sake of our ability to sleep without the cattleprod of their histories being jabbed into the plotbunny filled crevices of our brains just as we're trying to drop off….help?