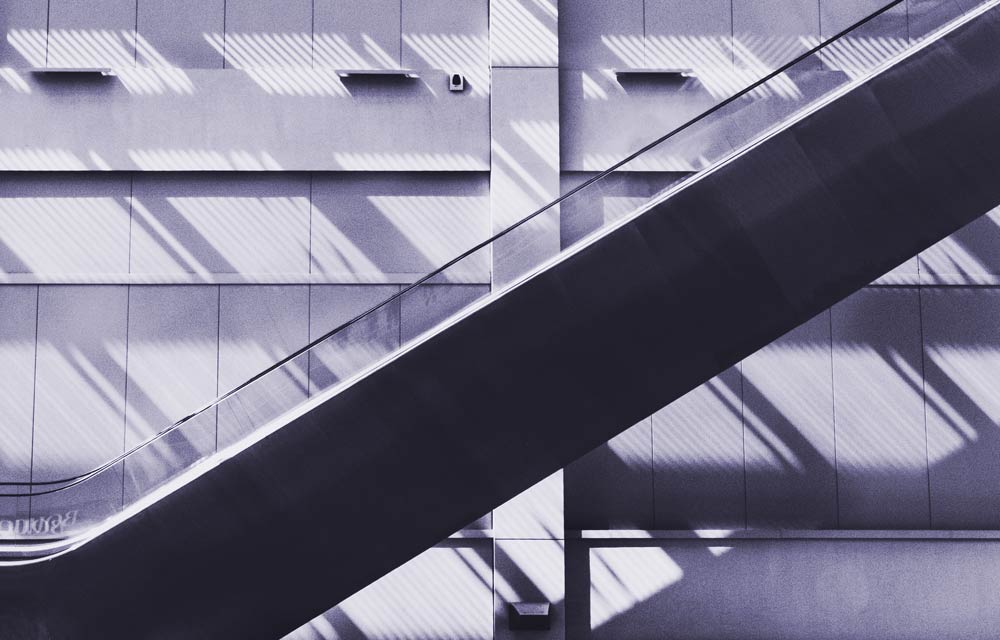 Image: John T
In our last essay about life in the City, we talked about how having an extended lifespan and almost total physical safety all the time might change ideas about risk, making physical risk seem much less important than emotional risk. (In fact, this is an important theme in the fourth novel, tentatively titled Unyielding Devotions, due out in 2023).
Partly because of this, as well as some of their norms around consent, the people in the City have a very different idea about what relationships look like. There's no Standard Model, no template of what a relationship "should" be…in short, no "relationship escalator," with its expectations about the steps a relationship progresses through meeting, dating, living together, marriage, kids, and death. In our real world, to step off that path, that escalator, is to be forced to return to the start and to have 'wasted' all that time — a concept that probably keeps more people in their relationships than you would expect. Sunk cost fallacy shows up everywhere, it seems…
Relationships in the City are all bespoke. They may involve two people or more than two people. They may be explicitly intended to be an indefinite commitment, renewed each time the designated duration draws near to an end, or more free-form. They may or may not be solemnized or publically acknowledged by a commitment ceremony, and those that are, may have any kind of ceremony that suits the people involved (though there are some common templates, as we explore in the third novel, The Hallowed Covenant). They may or may not be intended to include rearing a child or children.
Part of this flexibility is the post-scarcity setting; there is no need for a socially recognized way to handle joint finances or other resources if there's no such thing as money! Instead, such ceremonies are purely social and emotional.
"Today we celebrate a cleansing," Sayi said. "Tashaka and Sendi call upon the Keeper to wipe away all past transgressions so they may join together with a clean slate." The air around her vibrated with her words, carrying them to every corner of the enormous hall. The flowing motes of light swirled in a vast whirlpool above the stage. "I call upon Tashaka and Sendi to write down all their past transgressions against one another, so they may be washed clean by the Keeper. Let each transgression be erased as if it never happened."

Tashaka and Sendi dipped pens into the ink pots and wrote on long strips of pale pink silk. As they finished each strip, they handed it to a veiled Confessor, who rolled it up and placed it in the censer. Dense blue smoke rose from within. Sayi could not help noticing Sendi prepared several more ribbons than Tashaka.

When they finished, Sayi said, "Let those closest to Tashaka and Sendi now do the same, so that they move forward in friendship unsullied by transgressions of the past. Allow me to accept the weight of all your sins."

The people seated behind the balustrade came forward. Tashaka and Sendi stood beside Sayi while their friends wrote on narrow strips of silk. A Confessor took each strip reverentially and placed it in the censer to be burned. Thick smoke twisted in the air.

—from Book Three, The Hallowed Covenant
This flexibility, too, means that 'comet' relationships are likely quite common in the City: relationships where people come together for a brief period, celebrate one another, then part ways for a time, each treasuring the memories of the other until life and circumstances draw them together once again. When you live for centuries, a break of a few years or even a decade is less significant. Of course, in such a society there would be no label to indicate that this type of relationship is special or unusual or different from the expected norm — it's merely a description of one more type of relationship out of many.
This absence of a Standard Model of relationships plays out in nearly every aspect of City life. In the City, most (though not all!) citizens live in great massive towers, each one a cluster of community spaces, recreational spaces, and living areas, where they can be as close to others or as independent of others as they choose. They can have as much community as suits them, with no pressure or obligation to engage in any way they don't choose to—in that way, the City, despite its high density living, is actually more friendly to introverts than the real world! (Plus the lack of requirement to be around people at work, of course — if you don't have an obligation to work in order to survive, that is one fewer environment where you might expect to be in enforced ongoing contact with people you didn't choose to be close to. In fact, that sounds like a great idea for another blog post!)
There's no expectation that people in a relationship—even a stable, committed, long-standing union—must live together. In fact, in a post-scarcity world where your living circumstances can be literally anything you imagine and moving is a simple as saying "I want to be over here now, please have the drones make it happen," the idea of 'living together' in the sense we in the real world think of it doesn't quite fit. Characters might think of themselves as 'living together' if they share adjoining apartments, and can make or remove the wall between as suits their mood at the moment. Equally, they might think of themselves as 'living together' if they both live in a family group, sharing a common space which is set up around their child, in addition to their own private apartments. (This is something we will be exploring further in the fifth novel, as a matter of fact.) Or they might live together in a way that would be very familiar to us, sharing every intimate space down to their bed.
And should you want something else, anything else, that too is available.
Terlyn made her home in a tiny crystal box near an outcropping of rock. A small waterfall flowed over the rock into a little pond. The house was a simple rectangle whose transparent sides and roof were made of glass, nestled beneath a large pergola of wood. In the summer, lush vines covered in tiny purple flowers grew over the pergola. Today, the wood slats were bare. Small tufts of snow lay scattered across the roof.

The door opened at Terlyn's approach. Inside, the house was just a single room, as spare as it was outside. Terlyn's home contained nothing other than a large round bed surrounded by a low wood wall open on one side; a wood desk and chair; a low stone wall that partly concealed the necessary facilities; and of course, the opaque black rectangle of the Provider. Beneath her feet, wide planks of hardwood formed a floor that didn't reach all the way to the glass walls. A garden lined three of the four walls, lush with clusters of small flowering bushes growing from a flat expanse of short grass. Tiny creeping vines decorated with fingernail-sized flowers in gold, red, blue, and violet snaked along the grass, sending hesitant tendrils toward the wood floor.

Terlyn flopped onto the bed. "Walls opaque," she said. The glass walls turned frosted white. She left the ceiling transparent, so she could gaze at the clear blue sky.

—From Book One, The Brazen Altar
In the real world, the ideas about what a relationship ought to look like, including the notion that people in a 'serious' relationship must live together, have the weight of tremendous social expectation behind them. So much so that we often forget these ideals—Mom and Dad sharing a home with Rover and 2.4 children—are in truth quite new, relics of American post-WWII social transformation, not the deep historical traditions many folks believe. (For most of recorded Western civilization, extended multi-generational families, not nuclear families, were the norm.) Even the normalisation of marrying for romantic love, rather than merely as a joining of two family fortunes, is significantly more recent than you might expect!
So what does it mean to live in a society where emotional risk is (relatively more) difficult, there isn't a commonly accepted model of what a relationship is supposed to look like, and even your living arrangements are as flexible and bespoke as you want them to be?
A person from the real world transported to the City might struggle to interpret relationships there. Without the typical markers we understand to say 'yes, this is a real relationship,' things might seem chaotic, anarchistic, confusing. Unsettling, even. How do you know if you're in a real relationship? How do you know what's expected of you? How do you know who else might be in relationships? Is a particular individual exclusively committed, or are you allowed to approach them? How do you know what the limits are?
The answer is, you talk about it. The society of the City, even in the dark even-numbered books of erotic horror, prizes consent and autonomy in ways the real world doesn't, and that means you talk about everything: your needs, your expectations, what you want your romantic life to look like, the expected duration of your relationship.
This is a double-edged sword. (Or rather, triple-edged.) On the one hand, you're not stamped into assembly-line, cookie-cutter relationships regardless of whether they (or you!) fit or not. On the other hand, you're living in a society where vulnerability feels more scary than spending three days running through a forest terrified out of your mind, your body available to anyone able to catch you and overpower you, and the only way to be in relationships is to be vulnerable. And on the third hand (hey, you can have as many hands as you like in the City, subject only to the laws of physics and biology!), you are responsible for deciding what you want. Relationships aren't pre-configured; you have to figure out what you need, then advocate for that, without society doing the heavy lifting for you.
Your life, your choice. You figure it out.
Thankfully, of course, you have a lot of time to do that. You probably haven't taken your first adult name and moved into your adult life until your 30s or 40s, and from there you have a life that's basically as long as you want it to be—centuries, typically; many centuries, if you like. You have plenty of time to practice using your words.
And you have a lot to choose from. There is no expectation of monogamy in the City; in fact, social expectations of monogamy may be an artifact of scarcity (yes, we have plans to write about that at some point!). Want a monogamous relationship? Totally cool, as long as your partner is on board. A plural relationship? If that's your jam, fill your boots! Light, shallow relationships that only touch at the periphery of your life, or deeply entwined relationships that allow you to share everything with a lover for centuries? You can have that. No relationship at all? Nobody in the City will ever, ever ask you when you're going to settle down, get married, and have kids.
At the end of the day, you're the one who chooses (in collaboration with your partner(s) of choice, naturally). Nobody will try to make those choices for you.
For many of us in the real world (including both of us!), that sounds fantastically liberating. For others, that probably sounds terrifying. There's safety in knowing what's expected of you, what commitment looks like to you and the people around you. Sometimes it can even be a timesaver, assuming you're lucky enough to have found a partner who exactly matches your relationship style in all the important ways. Of course, you might well think you've found such a partner, and then discover many years into the relationship that actually, their attitude toward children is rather different from yours. That's the danger of not discussing your needs and wants, alas.
And in the real world, many people value themselves with respect to their lovers by how effectively they provide for those they love—which is all but meaningless in a post-scarcity society where nobody has to rely on anyone else for the resources they need to survive. Without that, how might such people know they're good partners?
Point is, in the City, you can't go into a relationship holding expectations about what it will look like—or what other people expect, either from you or to offer you. You're given a toolkit (and arguably one much better than people in the real world receive; the fifth novel will go into child-rearing, childhood drones, and how children are equipped to navigate the City. Every child is uniquely prepared, over many, many years, to be able to function in civic life in a way that most suits their needs and desires, and even children have far more autonomy in the City than a lot of people in the real world), but you're expected to use it to first figure out what you need, and then negotiate with those you love to build a relationship exactly suited to you.
Perhaps that's fitting. In a place where everything can be manufactured at will by nanotech assemblers, everything is bespoke. Perhaps it's somewhat contradictory, given the effortlessness of design and manufacturing, that craftsmanship is built into the City on a very deep level. (Or maybe it's just very human.) When your very environment and every item you touch is not mass produced, why allow your relationships to be mass produced? Why not apply that same idea of uniqueness to arguably the most important aspect of your life—your relationships?